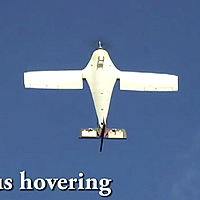 Autonomous reconfigurable hybrid tail-sitter UAV U-Lion
Wang, Kangli; Ke, Yijie; Chen, Ben M.
Sci China Inf Sci, 2017, 60(3): 033201
We present in this work the development of a novel hybrid unmanned aircraft platform, U-Lion, which has both vertical take-off and landing (VTOL) and cruising flight capabilities. Our design is in tail-sitter structure with reconfigurable wings, which combines the advantages of a fixed-wing plane and a rotor helicopter effectively. This allows it to transit from vertical take-off to hovering, before flying in cruise mode for efficient long duration flight. The propulsion comes from two coaxial contra-rotating motors fixed on a gimbal mechanism, which can change the direction of the motors for the required thrust. This thrust-vectored propulsion system primarily provides control in the VTOL mode but also enhances flight capabilities in the cruise mode. The hybrid aircraft is equipped with GPS and airspeed sensors, and has an onboard avionic system with advanced flight control algorithms to perform fully autonomous VTOL and cruising flights, in addition to transiting effectively between VTOL and cruising flight modes. The overall design has been successfully verified by actual flight experiments.